Best Valentine's Day Nail Art Ideas In 2020
So, as you pick your best outfit for your much-awaited date this February 2020, why not dress up your nails with the hottest Valentine nails 2020 designs. From golden rhinestones along the edges of a French manicure to minimalist nail sprinkled with red heart accent, let's which Valentine's nails will perfectly suit your taste!
1. Fiery Red Heart Nail Art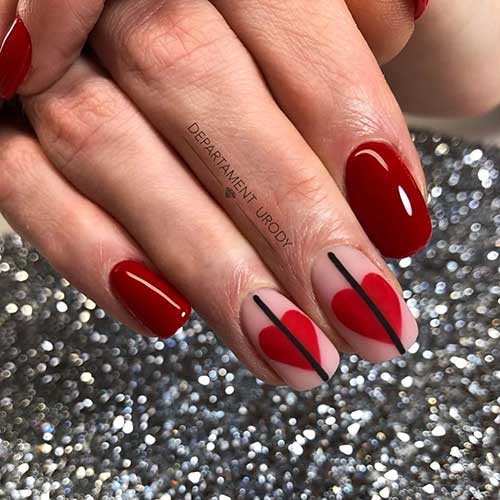 It's not Valentine's Day if you see no red hearts around. Well, your nails are no exemption. Show your bold and sexy yet elegant side by trying this Valentine's nail art. With its rich, creamy red color, you'll definitely capture everyone's attention. Then, to add a mysterious aura, the vertical black line is a perfect match for the fiery red heart design.
2. Little Pink Hearts with Playful Stones Valentine Nails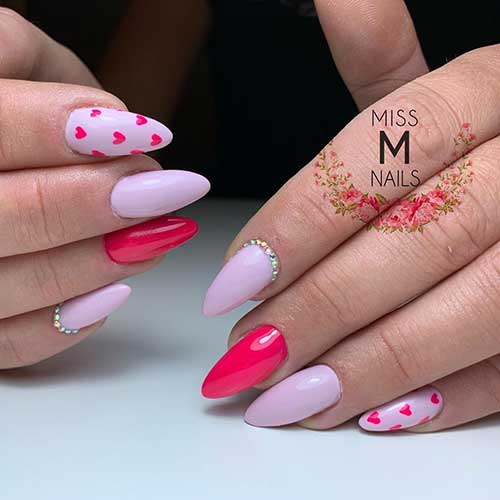 If you wish to display your playful personality through creativity, this heart nail art should be part of your Valentine's. These little pink hearts will boost your excitement to celebrate the heart's day. With the colorful little stones, there's no way for you not to show your sparkly personality. Not only that, this Valentine's day nails art is ideal for day time or nighttime Valentine's date or hang out.
3. Hombre and Heart-ish Valentine's Day Nail Art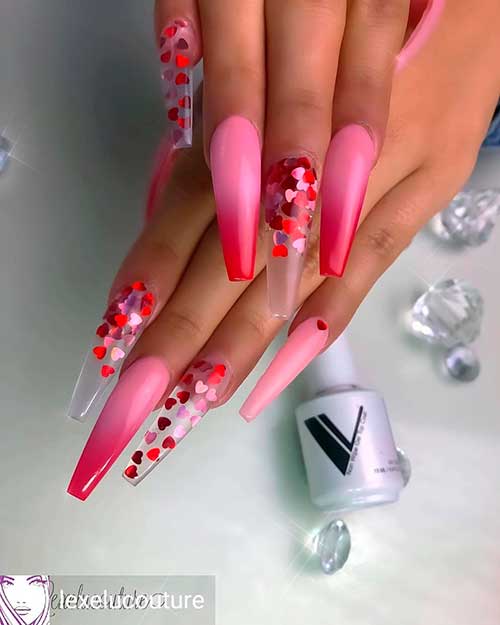 Who says ombre appeal is only for hair? This heart nail designs art will help you show your dual personality, from shallow to deep. The ombre design displays how passionate and affectionate you are, while the clear with little heart shapes nails will show your transparency and sincerity. So, let the world discover your real personality with this Valentine's nail art design!
4. Arty-Hearty Valentines Day Nails
Do you want to display how loving you are? These Valentine's nails are what you need to let your loved ones know your affectionate side. Those artistic heart nail designs will best show the different ways you give love. As for the black nail polish topped with golden details, it'll help you deliver elegance and style. So, say goodbye to boring nails. Let your nails stand out this Valentine's Day!
5. Maroon Love with Glittery Magic Nail Art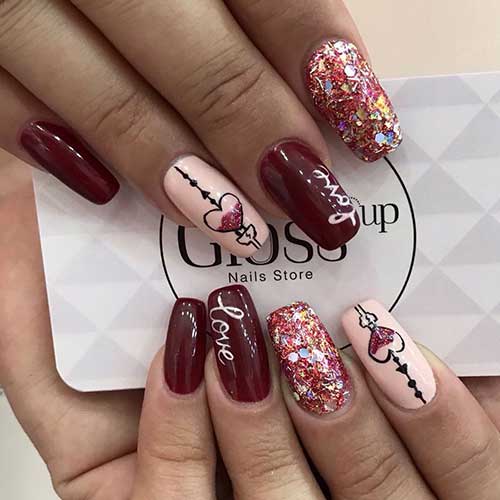 Apart from heart designs, why not use the word "love" in your Valentine's day nails. Quite lovable, right? That cursive "love" word in your nails will offer an eye-catching appeal. It will show your simple yet sophisticated personality. Then, to cast some spell on your Valentine's date, the glittery nails will do its job in giving you a magical mood.
6. Flowery Appeal on Valentine's Day Nail Art
Every girl would love to receive flowers on Valentine's Day. But what if you make flowers a part of your nail art design? Well, this will help you get that flowery appeal on heart's day. Then, to put some elegance and more stunning look, give your creamy white nails those colorful gems!
7. Sequins on Top Valentine's Nail Art
For a more feminine and blooming look, this nail art design can be your perfect match on Valentine's Day. Those sequins will highlight your girlish side while showing hints of sophistry through the little stud-like stones. So, get your best Valentine's look with this nail art, and don't forget to amaze everyone!
Don't miss a chance to make your Valentine's Day more exciting and dramatic. Try any of the above Valentine's day nails and then, make a striking look! For more Valentine's day nails check out my post about color street nails – new valentine collection!
Time for Inspiration
Check out our cherry-picked valentines day nails designs, and choose what suits your taste to wear on valentine's day!